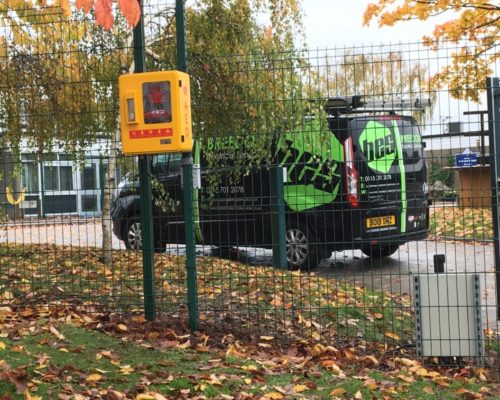 Breedon are seeing a growing trend of offices & schools installing Automated External Defibrillators (AEDs). To provide the highest chance of survival, a defibrillator should be no more than a 3 minute round trip away.
Employers have a legal responsibility to ensure the safety of their staff. Sudden Cardiac Arrest strikes at any time without any prior warning. Having a defibrillator in the office ensures you're able to provide treatment to the victim, without delay and increase their survival chance. Delivering treatment to victims within 3-5 minutes of them collapsing increases their survival chance from 6% to 74%.
While it is not mandatory for schools to have a life-saving defibrillator, they are seen as a key location to position an AED for both the school and the local community.During the recent half term break, Breedon has installed an AED at Ash Lea School in Cotgrave including full external groundworks, mounting, and supply connection back to the school.